The THM Electric Heater line is created to provide a simple, flameless solution for your heating needs. Electric heaters are a simple option to help in your journey towards sustainability and reducing your overall carbon footprint. Using readily available low voltage (480V) electricity, our heaters can be used in a number of different applications and perform well in systems that require a finely controlled set-point. THM has standard sized units available for various applications or we can customize a package to meet your exact needs.
Circulation Heater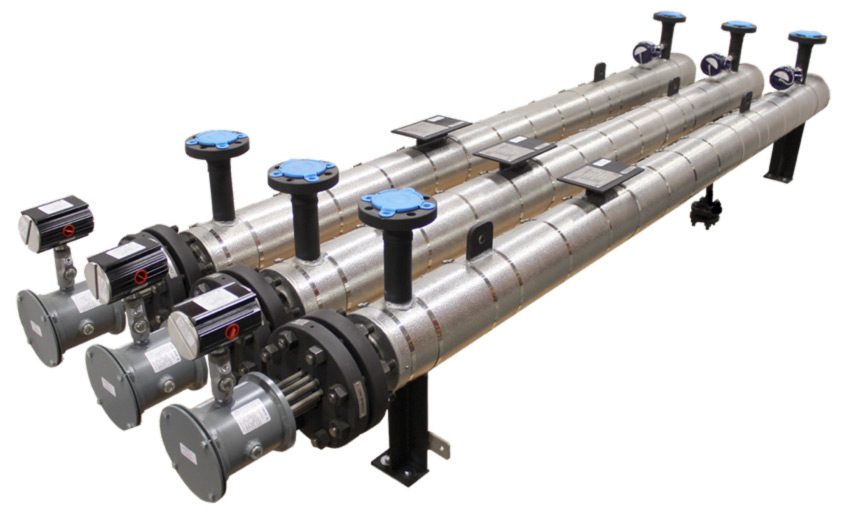 Electric heaters using low voltage (typically 480V) are limited in size to around 5 MW. There are many stand-alone and supplemental applications that fall into this range. Some typical electric heater applications include:
Hot oil heating
Regen gas heating
Line heaters
Reboilers
Tank/Immersion heaters
Heater Treaters
Fuel Gas Conditioning
Electric heaters offer several advantages over gas-fired heaters. First, with respect to environmental sustainability, there is no local combustion so there is also no local NOx or CO2 emissions. This could help lower your overall plant emissions load with the potential to obtain credits. This could also help reduce the number of emission points in your plant, which may provide additional flexibility from a planning perspective.
In addition to the emissions advantage, electric heaters are also more efficient and require less maintenance than gas-fired heaters. The electric heating elements are nearly 100% efficient and remain so even during turndown cases. Electric heaters tend to be smaller than gas fired heaters, requiring less plot space in your facility. If plot space is extremely limited, the heater can also be oriented vertically.
Immersion Heater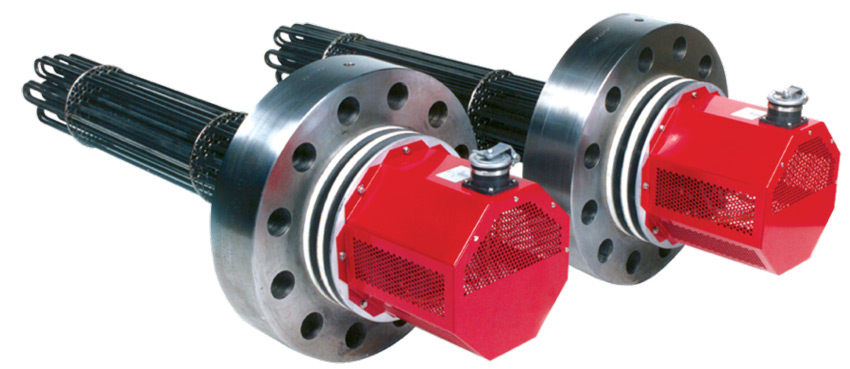 THM can also provide immersion heaters for tank or vessel heating. Whether you have a small pipe or a large storage tank, we have immersion heater solutions that will meet your needs. These heaters are designed for direct immersion in your process liquid (water, oil, solvent, etc), so it is more efficient than using any sort of indirect heating (such as heat tracing).
SCR Control Panel

Each system can be designed and supplied with an associated Control Panel for process control of the unit.  THM has both pre-engineered packages and custom packages available for the entire range of heaters.  Control Panels can be designed using simple On/Off methodology, step functionality, or with a SCR for complete control through the entire range. THM has experience with and can work with multiple codes – i.e. NFPA, ATEX, NEMA, IEC, CSA, UL.
(product images courtesy of Thermon)